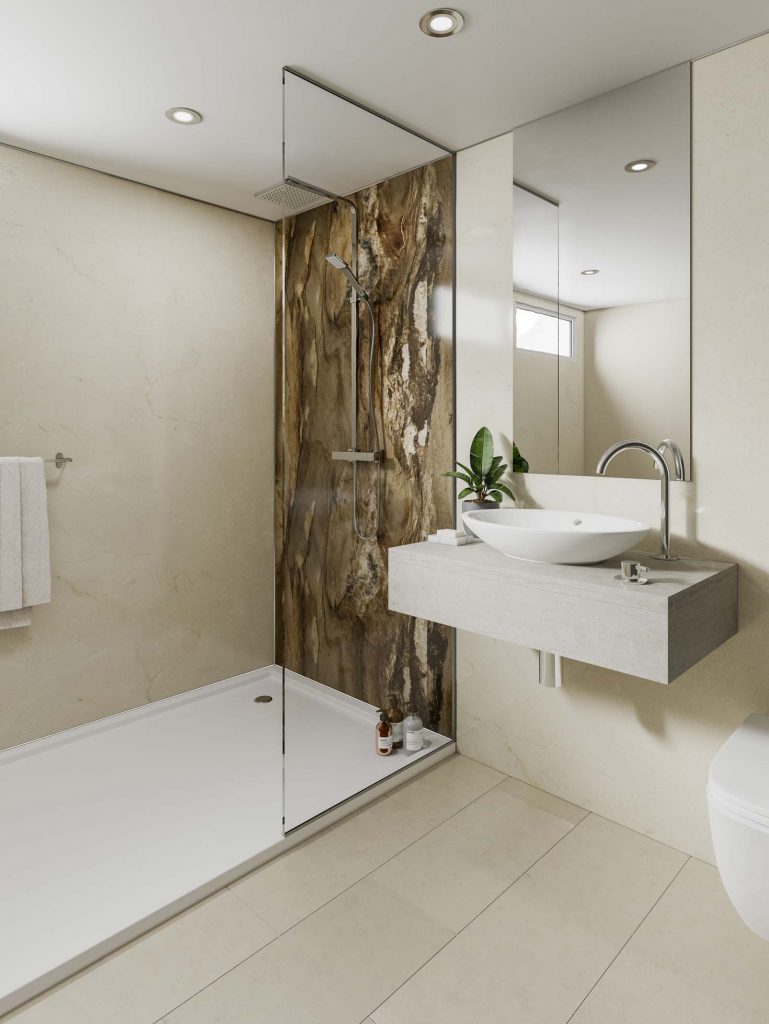 If you are looking to redecorate your bathroom or kitchen and are looking for a cost-effective way to design your floor and walls, a Multipanel wall panel is a great simple solution. With Multipanel you can say hello to years of easy care and goodbye to cleaning grout and mould. As the wall panel is completely waterproof there is no need to grout! Using watertight Hydrolock joints to seal the panels together you will see a near seamless finish. With Multipanel you have the opportunity to set your imagination free and create beautiful waterproof bathroom and kitchen spaces. With quick and easy installation Multipanel can recreate the look and feel of expensive stone, timber and steel at a fraction of the cost!
The newest collection in the range is the Linda Barker wall panel collection featuring natural wood and stone effect designs, perfect for bathrooms small, medium or large.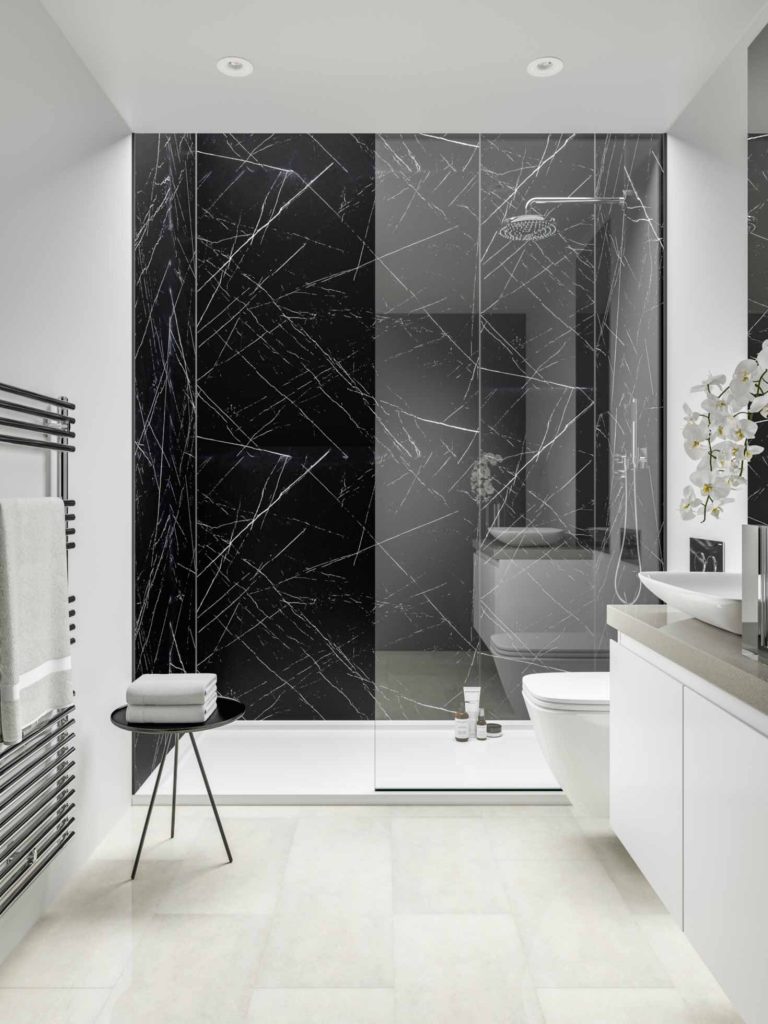 The Elements range includes stone, concrete, corten and graphite effects. These panels pack a punch, conveying mood and atmosphere, perfect for the ultra-modern industrial look.
If you are looking for a calmer, more natural wooden effect then the Wood range offers a couple of gentler more weathered looking panels. The two options in this range are Concrete Formwood and Salvaged Planked Elm.
Finally, is the most extensive range from the Linda Barker Collection, the Stone range which includes 7 different elegant stone and marble effect panels. With this range you can emulate the swankiest hotel bathrooms by getting the effect of marble and stone, at a fraction of the cost!
If you are looking to redesign the look of your bathroom with Multipanel, here are a few tips from Linda Barker, the designer of this new wall panel range:
• A bathroom should be a calming restorative place, so loud colour clashes may prove to be just a little bit too distracting. Subtle contrasts of shade and texture, on the other hand, can give you pleasing combinations that work well in creating focal points that draw attention.
• Sketch out a floor plan to factor in all requirements including storage — regardless of its dimensions, your bathroom should have a generous feeling of space.
• Give yourself time to plan your perfect space. A mood board in the room will give you the opportunity to mull things over and allow the design to grow on you. To get the perfect look, avoid snap decisions.
• Avoid being swayed too much by on-trend reports – these might be lovely but may not be the best solution for your space.

Here are a selection of the finishes available in the Linda Barker range (In order from left to right):
Calcatta Marble, Ferro Graphite, Bianca Luna, Dolce Macciato, Salvaged Planked Elm, Stone Elements, Soapstone Stellar, Graphite Elements, Jet Noir, Nero Graphite, Corten Elements, Concrete Elements
You can find more bathroom inspiration here >>
Learn more about the Linda Barker wall panel range here >>